Avete sempre desiderato creare immagini Gif animate da condividere su internet magari riprendendo una scena divertente di un film ma non avete mai saputo come si fa?
Free Video to Gif Converter è un programma gratuito per Windows che permette di estrarre automaticamente i fotogrammi dai video nei formati AVI (DivX/XviD), WMV, MPEG, FLV, MOV, MP4, 3GP, VOB e MKV che sono supportati dal programma.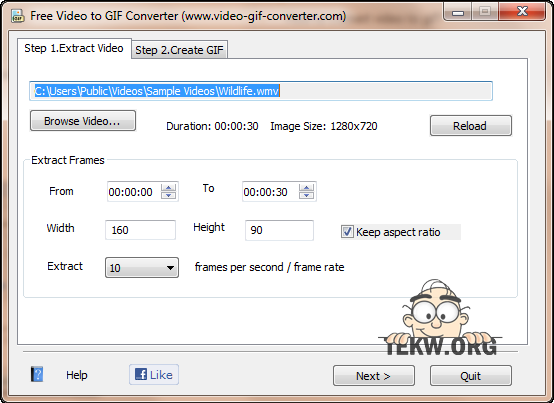 Come funziona il programma?
Il programma crea immagini Gif animate in modo del tutto automatico, una volta installato il software, dalla semplice intefaccia grafica basta cliccare su Browse video.. e selezionare il video da cui estrarre i fotogrammi ed indicare in Extract frame from.. To lo spezzone di film da ritagliare e trasformare in gif. Se ad esempio al minuto 1.30 a 1.35 c'è una scena divertente che vogliamo trasformare in Gif ci basterà indicare da quando a quando si svolge la scena e cliccare su Next per scegliere la qualità, rimuovere i frame che non ci piacciono e cliccando su Make Gif, creare la nostra bella gif animata e pronta per essere condivisa sul web.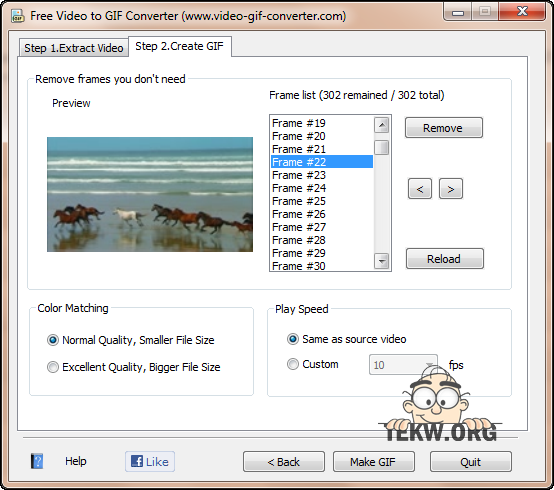 Un programma semplice da utilizzare ed adatto anche a chi non se ne intende di video editing. Estrae in modo automatico i fotogrammi dai video e quindi all'utente non rimane che selezionare i frame migliori, rimuovere quelli non necessari e salvare la Gif animata.
[button_icon icon="anchor" url="http://www.video-gif-converter.com/index.html"] Scarica Video to Gif Converter [/button_icon]